Sustainable Carton Pallet Product details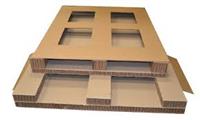 Product by:
Prime Worldwide Paper Packaging Corporation


Sustainable Carton Pallet is lighter in weight compared to wooden pallets but offers comparable sturdiness.
PRIME corrugated-based eco-friendly pallet packaging adjunct needs no treatment against insects and is hygienic, suitable for usage as packing material in the food industry.
Sustainable Carton Pallet is 100% recyclable and resistant against side impacts, dragging and splashes.
This sustainable product is perfect got translates to huge cost savings when used in airfreight.
Please use the Contact form on the right for Sustainable Carton Pallet information and ordering.