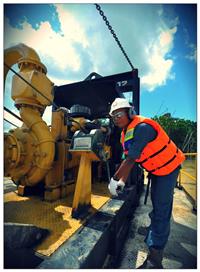 Product by:
Sumberdaya Sewatama


PT Sumberdaya Sewatama, perusahaan solusi tenaga yang terintegerasi, dengan cita-cita menjadi penyedia terkemuka solusi daya dan pilihan yang lebih disukai di industri.
Solusi sistem tenaga Sewatama dirancang untuk mendukung industri utilitas seperti: tenaga untuk kesehatan, keselamatan, dan kesejahteraan masyarakat, tenaga untuk pemulihan bencana, kesehatan, bandar udara, gedung pemerintahan dan persediaan air.
Solusi kami dapat beroperasi pada setiap bahan bakar yang tersedia termasuk solar, gas dan bahan bakar minyak laut yang memungkinkan potensi besar untuk penghematan biaya. Oleh karena itu, kami adalah pilihan tepat bagi anda.
Please use the Contact form on the right for Solusi Tenaga yang Terintegerasi information and ordering.