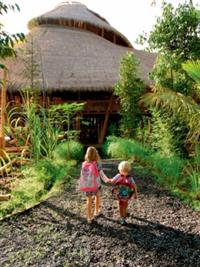 Product by:
Green School Bali


Sekolah Hijau (Green School) di Bali, Indonesia. Sekolah yang memberikan sebuah pendidikan alam, holistik, dan berpusat pada pendidikan siswa di salah satu lingkungan yang paling menakjubkan di planet ini.
Tujuan kami adalah mendidik para pemimpin muda dalam kewarganegaraan global sebagai pemenang dari metode pembelajaran baru yang menghubungkan pelajaran abadi dari alam untuk persiapan relevan dan efektif demi masa depan yang cepat berubah. Delapan nilai-nilai yang membimbing kami adalah: Integritas, Empati, Tanggung-jawab, Berkelanjutan, Perdamaian, Kesetaraan, Komunitas dan Kepercayaan.
Kami mengundang anda untuk menjelajahi situs kami dan mengetahui lebih lanjut tentang sekolah, kampus dan misi kami. Anda dapat mendaftar tur sekolah, meninggalkan umpan balik dari setiap artikel atau posting blog atau mempelajari bagaimana anda dapat berkontribusi untuk sekolah, Bali, dan Bumi kita yang indah.
Bumi yang indah adalah Bumi yang Hijau!
Please use the Contact form on the right for Sekolah Hijau di Bumi yang Indah information and ordering.