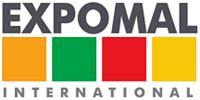 Product by:
Expomal International Sdn Bhd


Expomal International Sdn Bhd is a professional exhibition and conference organiser. The company's core strenght of highly dedicated team members and innovative management expertise in bearing the imprint of creativity and total quality services that generate valuable exhibition platforms for international businesses.
Expomal International establishes strong long-term relationship with its associates, partners and customers, including the media. It has also been actively collaborating with trade organisations, commercial chambers and foreign embassies in different countries.
Expomal International has expanded its presence by setting up overseas offices in Beijing and GuangZhou, China and Hanoi, Vietnam as well as representative offices in countries including India, Indonesia, Myanmar, New Zealand, South Korea, Taiwan and Thailand so as to ofter premium services to its overseas clients.
Please use the Contact form on the right for Professional Exhibition and Conference Organiser information and ordering.