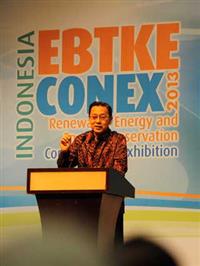 Product by:
Indonesian Renewable Energy Society (ires)/masyarakat Energi Terbarukan Indonesia (meti)


METI merupakan sebuah forum bagi para ilmuwan, pendidik, regulator, pengembang dan organisasi bisnis.
Dalam rangka Indonesia EBTKE ConEx tahun ini, yang diselenggarakan oleh Direktorat Jenderal Energi Baru, Terbarukan dan Konservasi Energi (EBTKE) - Kementrian Energi Sumber Daya Mineral Republik Indonesia (METI) mengundang para peneliti dari perguruan tinggi, Balai Penelitian, Pusat Penelitian, Lembaga Penelitian pemerintah, BUMN dan Swasta, LSM, asosiasi dan Institusi lainnya untuk berpartisipasi dengan mengirimkan hasil penelitian/ studi/ gagasan dan lainnya dalam bentuk paper dengan topik "Energi Bersih untuk Bangsa".
Poster terbaik akan memperoleh hadiah berupa uang.
Please use the Contact form on the right for Energi Bersih untuk Bangsa information and ordering.