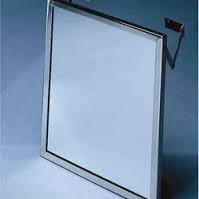 Product by:
Consis Engineering Pte Ltd


Eco Stainless Steel Frame Type is designed to have a concealed directional Sustainable drainage system.
This Sustainable Product is made up with standard sized units thus that it can be easily assembled to adapt to the designed dimension of the green wall. This flexible system can be tailored according to particular needs of customers.
The bottom rail of the frame is to be used as a catch drain and the water outlet is at bottom or side end of the frame.
The excess water will flow through groove on the mounting part down to the catch drain at the bottom and to be eventually discharged through the water outlet. This process avoids any possible pollution to the floor during irrigation.
Through proper selection and arrangement of plants and flowers, different color bands, pictures, patterns or words can be formed.
Eco Stainless Steel Frame Type can be installed on almost any size and any type of vertical surfaces, (i.e. interior and exterior walls, fences, steel structures, retaining walls, road divides and a lot more.
CONSIS VGS can be cohesive naturally with the sustainable architectural and landscaping design and brings to us a beautiful, green, and comfortable environment.
In addition, there is also a catch basin under the last row of pots of this modular system. Therefore the excess water will be drained to the designated outlet.
Please use the Contact form on the right for Eco Stainless Steel Frame Type information and ordering.