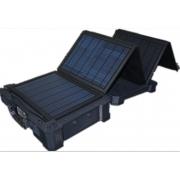 Product by:
New Shine Solarstock New Energy Tech. Co., Ltd


Eco Portable Solar Power System features multifunction charging ways, that can use the solar panel of system to charge directly or with AC adaptor to charge the inside battery.
Solar panel used is 50W/18V Mono crystalline Cells which is very efficient.
Pairing with the battery charger, this sustainable unit will charge your battery using its PWM technology.
This eco friendly product has a adopt sensible control with short circuit, overload and distinctive prevent reverse connect protection, when full charge or over-discharging it will automatic cutoff and recovery protection function.
Eco Portable Solar Power System is completely wired up ready to use anywhere and everywhere.
Please use the Contact form on the right for Eco Portable Solar Power System information and ordering.