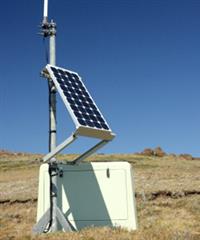 Product by:
Solenergy Systems Inc.


Solenergy can design and deploy custom Solar solutions for a wide range of off-grid power needs.
From small scale CCTV and weather stations to remote telecommunication towers, their professional engineers will devise the appropriate system solution for your exact power needs.
In performance critical circumstances, they can also interface with existing generators or grid power, a so-called Hybrid System, to ensure zero down time.
Hybrid system is also connected to the grid but includes a battery bank as well.
In most cases it will also include a back-up generator of sorts this may include a wind or diesel generator.
In addition, they can also integrate solar powered battery storage systems to act as an Uninterruptible Power Supply to ensure a durable power supply for sensitive equipment.
Please use the Contact form on the right for Custom Solar Power Hybrid System information and ordering.