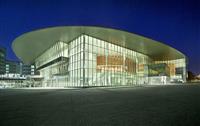 Product by:
China Construction (south Pacific) Development Co Pte Ltd


Sustainable Republic Polytechnic New Campus consisting of a total of 19 blocks. The Centre for Culture and Communication and Auditorium (CCCA) houses 3 modern comfortable theatres with 1200, 400 or 120 seating capacity.
The biggest 1200-seat theatre is a mini-Esplanade and boasts state-of the-art world-class stage theatre and sound equipment and facilities.
The green Construction process is complex with the complementary use of a structural steel and composite reinforced concrete structure, bounded by a 15-metre high curtain walling, aluminum and Red Arenite sandstone cladding.
The Sports Complex used 400 ton of steel for its structural frame with trusses spanning some 38 metres at a height of 16 metres and each weighs 16 tons.
The successful completion of this high-tech campus marks a new chapter in the educational landscape of Singapore.
It is a true testimony of the China Construction Development ability to coordinate and build a project of this scale and complexity with satisfactory quality and workmanship, within a highly compressed schedule and extremely tight budget constraints.
Please use the Contact form on the right for CCDC Sustainable Republic Polytechnic information and ordering.