Bio-Plus Organic Fertilizer Product details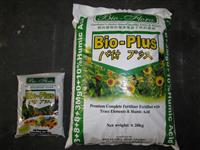 Product by:
Bio-flora (singapore) Pte Ltd


Bio-Plus Organic Fertilizer is made from humate extract and soluble phosphate which also contain all nutrients in the required amount.
This organic product is a balance diet for plants that enhances the adsorption of nutrients by the roots.
Bio-Plus Organic Fertilizer is recommended for flower, plant and turf especially golf fields (green), durian trees and fruit bearing plants.
In addition, it is also long lasting and non-scorching multipurpose fertilizer (Plant based).
Please use the Contact form on the right for Bio-Plus Organic Fertilizer information and ordering.