Hiestand Malaysia Sdn Bhd info, products & news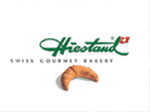 HIESTAND bakery is a leading international producer of deep-frozen and convenience bakery goods. We offer high quality, innovative bakery goods in many categories, such as: croissants, bread, rolls, pastries, snacks, pretzels. In order to obtain the excellent taste of our products we use only natural ingredients of exceptional quality – following at all times our raw materials philosophy. Our offer is complemented by comprehensive services – it guaranties that our Customers receive all that is crucial for the success in sales of bakery goods.
Please get in touch with Hiestand Malaysia Sdn Bhd from the Contact box on the right.
Hiestand Malaysia Sdn Bhd Products
listed