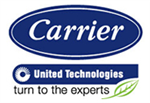 Carrier is the world's leader in high technology heating, air-conditioning and refrigeration solutions. Carrier experts provide sustainable solutions, integrating energy-efficient products, building controls, and energy services for residential, commercial, retail, transport and foodservice customers. Founded by the inventor of modern air conditioning, Carrier improves the world around us through engineered innovation and environmental stewardship. Carrier is a part of UTC Climate, Controls & Security, a unit of United Technologies Corp., a leading provider to the aerospace and building systems industries worldwide. Visit www.carrier.com for more information.

Products/Services

Air Conditioning Systems & Green-based Maintenance Services

Why we are a green organisation

From the very beginning, Carrier Corporation has been a natural leader. Not simply for the fact that we created an entirely new and innovative product, but because as we did so, we set the standard in environmental responsibility. At a time when sustainability wasn't on most minds, Carrier led the way. It was only natural.

Carrier was among the first companies to set energy reduction goals for our factories in 1988. This led to our first company-wide global environmental, health and safety goals in 1997.Over time, Carrier helped pioneer a new industry, and then pioneered environmentally sensitive products while reducing its own impact on the environment. We recognize the responsible balance between the technology we provide today and the world we live in tomorrow.

Preservation of the environment and protecting our fi nite natural resources is a central tenet of our business. We've consistently demonstrated our adherence to these values by creating environmentally sound products that consume less energy and incorporate innovative materials.

Carrier is committed to reducing the greenhouse gas impact of our products through energy efficiency advancements and the refrigerants we use. Since 1994, we have led the industry in the phase-out of ozone-depleting refrigerants while introducing many of the world's most energy-efficient heating, air conditioning, and refrigeration systems. At the same time, we've reduced the environmental impact of our operations.

Our environmental commitment extends well beyond our walls to our communities and the marketplace. Carrier is the only company in the world to be a founding member of the U.S., Argentina, China, India, Singapore and France Green Building Councils. In fact, Carrier was instrumental in launching the U.S. Green Building Council in 1993 and was the first company in the world to join the organization. Carrier's Rick Fedrizzi was the Council's first chairman, and later went on to lead the organization as president and CEO.

In 2008, Carrier was named as a formal international advisor to the China Green Building Council, having helped introduce the Green Building Council model to that country.

Carrier is the only company in the world to be a founding member of the U.S., Argentina, China, India, Singapore and France Green Building Councils.

Today, Carrier continues to improve the environmental performance of our products, services, operations and culture to help achieve a sustainable society and protect the natural environment for generations to come.

For more details, please log on to www.carriergreen.com


Please get in touch with Carrier Singapore Pte Ltd from the Contact box on the right.