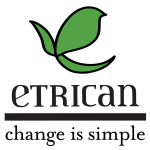 Etrican gives you the power to make responsible fashion choices without compromising on style, quality or price.

A pioneer of eco fashion, the label designs high quality organic cotton clothing as well as accessories made from eco-friendly recycled materials sourced regionally and in a sustainable manner.

Because of its dedication to the environmental cause and its quirky designs Etrican is garnering a steady following especially among the youth in Singapore.

In addition, Etrican Pte Ltd, the company that owns the Etrican brand is launching Etrib2b a corporate eco apparel and gifts label aimed at organisations with active environmental policies across industry sectors including businesses, schools and universities, NGOs, etc.

Etrib2b provides fully customised round neck and polo t-shirts, totes, namecard holders and others, all made of high quality eco fabrics like organic cotton, bamboo or recycled PET. Customisation services offered include design, printing, embroidery, etc. The prices are kept affordable, the aim is to make the eco friendly option a competitive alternative to mainstream wholesale apparel.

For more information about Etrican and product overview please visit the brand's online store at www.etrican.com. The Etrib2b website is currently under construction, for related inquiries please send us an email at [email protected] and we will get back to you.

Products/Services

eco friendly clothes and accessories

Why we are a green organisation

This is a brand that lives and breathes its mantra as easily as the soft, supple organic cotton in its clothing. In addition to its commitment to eco fabrics, Etrican makes efforts to achieve sustainability across all areas of operation. Examples include minimising logistic carbon footprint by keeping production regional and clustered, cutting fabric waste by printing size and washing labels directly on the inside of its garments or reducing paper usage internally and externally through effective use of IT.

Etrican has also been actively involved in the local community ever since its launch in 2009, promoting responsible lifestyles by sponsoring youth projects, giving talks in schools and universities and participating in eco themed events.


Please get in touch with Etrican from the Contact box on the right.